Employers
Our Recruiters are experienced in the searching and placement process of qualified sales position candidates. We review candidate's skills, experience, education, and goals in great detail before placing the correct individual with your company. We actively recruit candidates and continuously seek new, qualified candidates for current and future sales positions.
Recruitment Process

• Direct Recruitment
• Advertising
• Access to Internet based Employee Search tools
• Employee Referrals
• Partnerships with other Recruiting Agencies
• Online Advertising
• Job Fairs, Business Expo's
• WBE Certified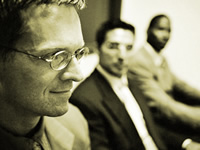 Our recruitment team is committed to matching client needs to candidate strengths. We strive to build long-term partnerships based on strong ethics that produce results with our clients. From candidate sourcing through candidate placement, our goal to provide an effective and valued service is demonstrated every step of the way. Grow your business with our experienced team and let Shelgin Partners be your leader in professional sales recruitment.
Please contact Gerri Lynn Zschetzsche to discuss your needs.
phone: 636-625-2333
email:  glz@shelgin.com
Shelgin Partners specialize in national sales recruitment for the following fields:
Pharmaceutical Sales, Medical Equipment Sales, Dental Equipment Sales, Advertising Sales, Payroll Service Sales, Investor Communications Sales, Consumer Product Sales, Sales Management , Business Solutions and Services Sales, Engineering Sales, Office Equipment / Supplies Sales, and related sales jobs.